Start selling on Zalando with xSale
xSale is a modern platform for online sales management thanks the help of which you can integrate your store with Zalando and automate most of the activities while conducting sales.
We can help you integrate your sales with Zalando
We help customers integrate their business with the Zalando platform. Our team of specialists is at your disposal when integrating with Zalando via zDirect API and when choosing the so-called 'own logistics'. We also support with filling out the technical documents necessary to link the store to the platform.
Your store
Any e-commerce store
xSale + Zalando zDirect
Integration with Zalando via zDirect AP
Zalando Store
Your products on Zalando
Your store
Any e-commerce store
xSale + Zalando zDirect
Integration with Zalando via zDirect AP
Zalando Store
Your products on Zalando
xSale means
higher stability.
reliability.
One application to manage and automate online sales
xSale replaces tools integrating stores, marketplace, and warehouse and accounting systems. It automates sales processes, optimizes the users' work and supports the sale of goods thanks to advanced mechanisms of artificial intelligence.
All essential integrations for eCommerce
Integrate with over 30 of the most popular systems. Platforms sales, couriers, ERP systems, printout engine in one intuitive xSale application.
From xSale you will list products on many different sales channels. Zalando, eBay, Amazon and many more.
Fast shipment processing thanks to integration with most courier companies. DPD, GLS, DHL, FedEx and many more…
The two-way integration with ERP provides the fastest data synchronization times between ERP and your sales channels. This ensures that your offerings are always up to date.
Automatic printing of courier labels and warehouse documents.
xSale is a tool for managing multi-channel sales on the Internet. Thanks to its capabilities you will be able to handle orders from Zalando, eBay, Amazon and your own online stores using one panel.
xSale provides advanced sales process automation features that will save you up to 90% of your order processing time!
Orders coming from different sales channels when they meet 100% of the established conditions are realized automatically, without the need for manual intervention. xSale itself checks if the required amount of products is in stock and then changes the order status, prints stock documents, receipts, invoices and waybills.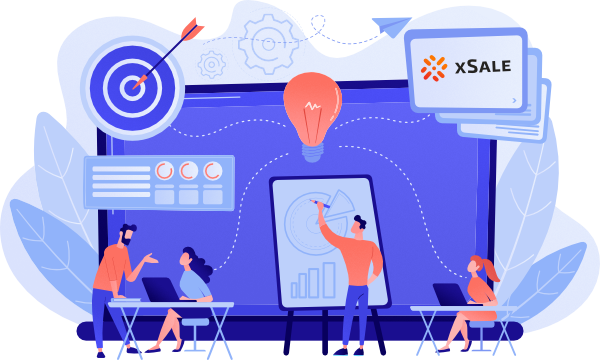 We prepare an individual scenario of implementation training for each client. It is important to us that xSale brings maximum benefits. During the individual training we show you how to use the software optimally. The introduction lasts a short time, the effects are visible quickly.
How much does it cost? How quickly can I implement the system? How will you automate online sales?
Make an appointment for a DEMO of the system! We will contact you and arrange a convenient time to meet.
Babińskiego 69 Street
30-393 Kraków
Poland